Teesha Moore presents The Neighborhood, a brand new collection.
Click on the image below to enter.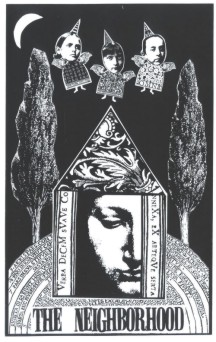 (Or scroll down for previous supplements.)
---
Remember that all pages are 8 1/2" X 11"
This should help with estimating the stamp sizes.
As always, click on the thumbnails to see the enlarged pages.
CLICK HERE FOR LATEST UPDATES AND NEWEST IMAGES
Brand New Images For Fall 2001
These images were debuted at Art Continuum in Cleveland, OH.
---
Teesha's Dream Debris Series
Dream Debris Pg. 1 Dream Debris Pg. 2
---
Previous Supplements
---
These next three sheets are roughly 5 1/2" X 8 1/2" each.
---
Full 8" X 10" Sheets:
| | | |
| --- | --- | --- |
| | | |
| Face Sheet # | Found Object | Circus of Evidence |
| | | |
| Journal Stamp Set No.1 | Journal Stamp Set No.2 | Big Head Collection |
Samples from Teesha's Journals where she has been using the Journal Stamps:
Copyright 2000 Zettiology Rubber Stamps & Mythos